Miracord 60 Turntable
Miracord 60
Miracord 60 Turntable
Miracord 60
A new class of ELAC turntables
The Miracord 60 Turntable
In 2016 the name Miracord was re-established in the high-end audio community. 3 years and 3 product launches later, the Miracord 60 is ready to continue the unique ELAC Audiophile Turntable Saga.
The Miracord 60 was designed to bring the world-renowned and eye-catching design of the successful Miracord 90 to a new class of ELAC turntables. The result is a turntable that does not deny its lineage while emphasizing its individuality. The new Miracord 60 embodies the meaning of smooth vinyl precision to perfection and timeless, elegant design.
Product Specifications
TURNTABLE SECTION
Drive System: Belt-drive
Motor: DC Motor
Selectable Speeds: 33 1/3 and 45 rpm
Rotation Speed Variation: +/- 0.33%
Wow and Flutter: < 0.12%
Platter: Aluminum die-cast
TONEARM SECTION
Type: Carbon fiber tube
Overhang: 18.6mm
Offset Angle: 25 degrees
Anti-Skating Adjustment: 0..4
Main Bearing: Stainless Steel
CONNECTOR: RCA pin jack
VOLTAGE: 100 to 240V AC /50/60Hz
POWER CONSUMPTION: 1.5 W (less than 0.5 W at standby)
Download Spec Sheet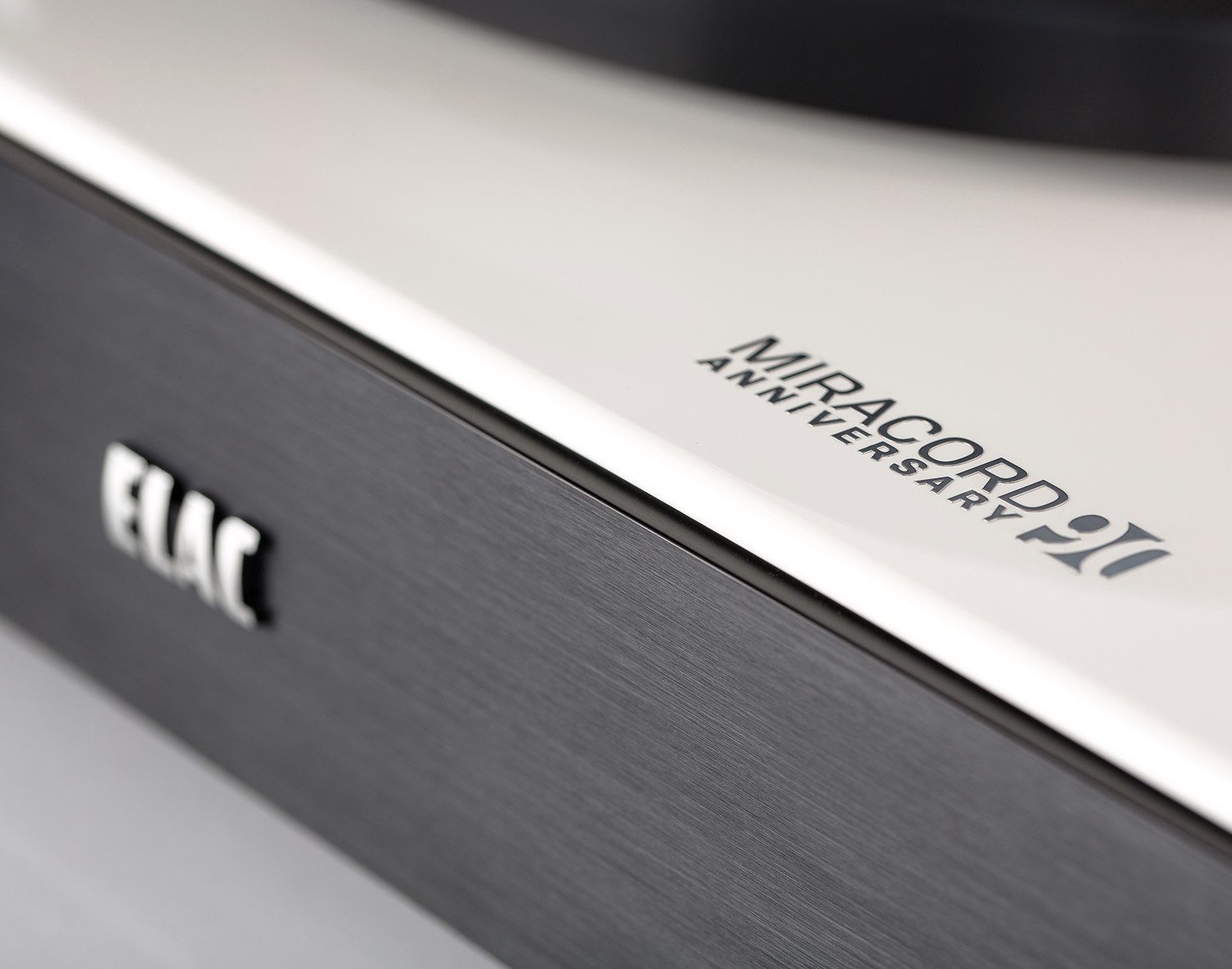 Inert MDF chassis
The 12 lb (5.5 kg) MDF chassis rests on specially developed silicone feet that decouple the deck completely from the surface on which it is placed.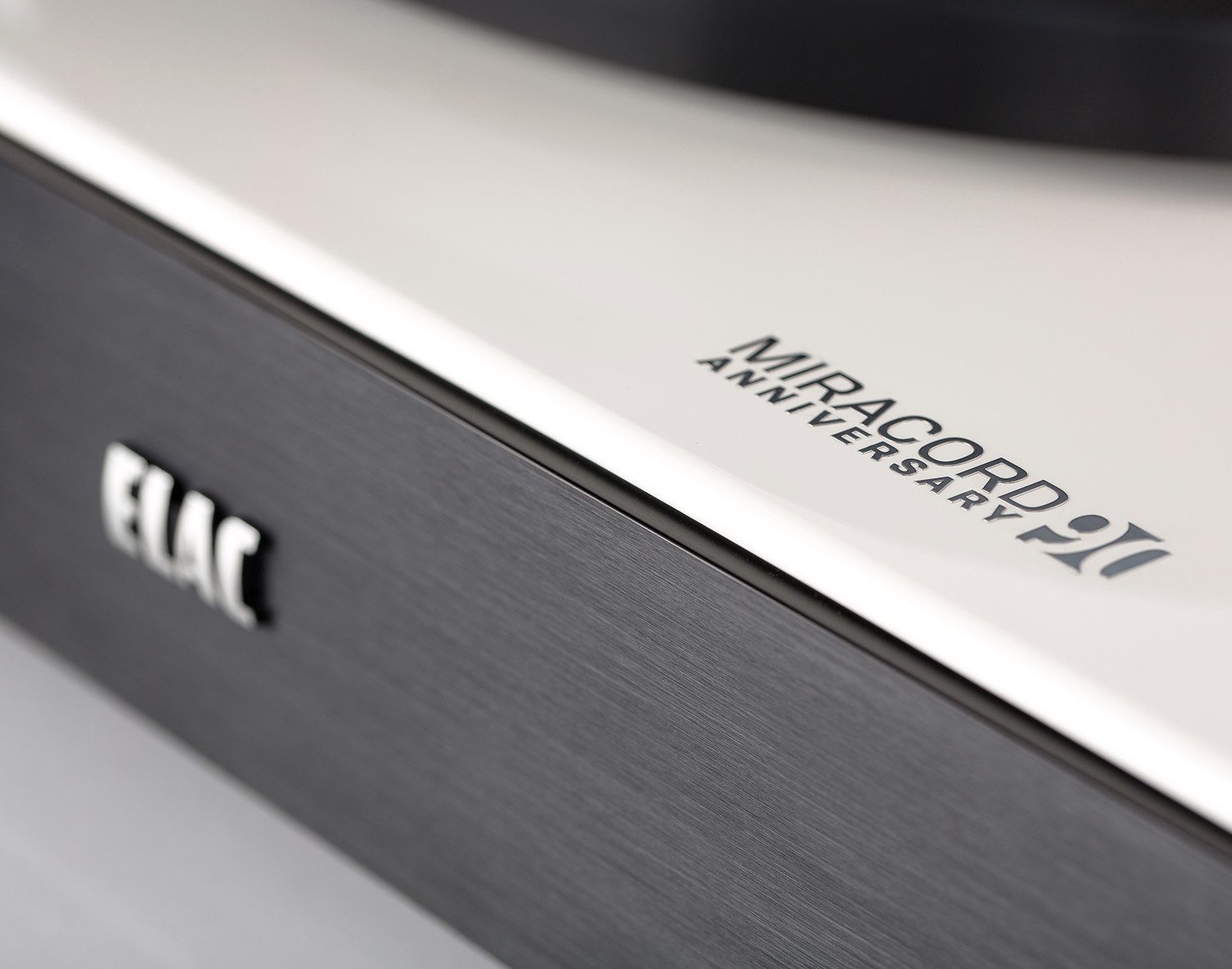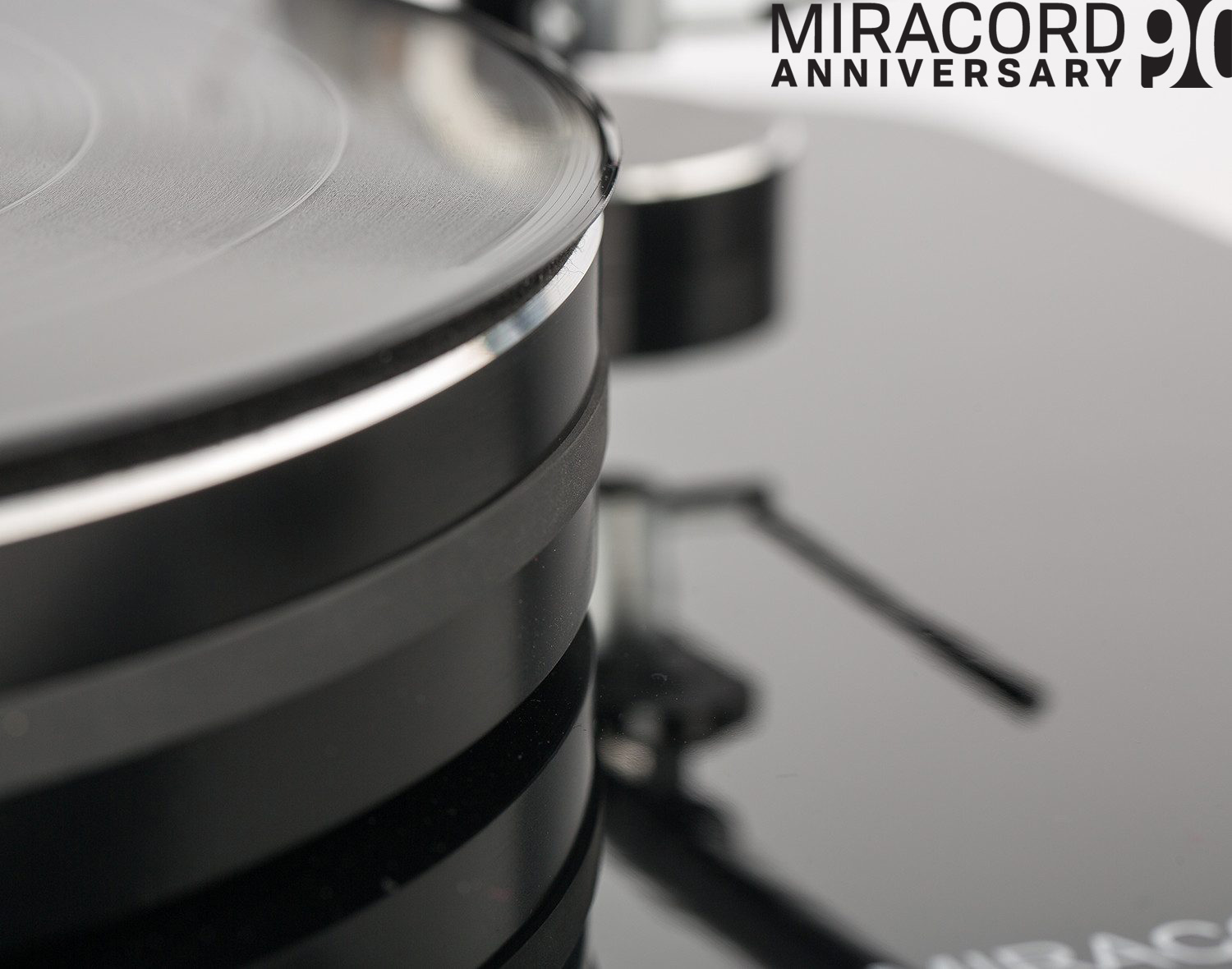 Precision platter with minimal friction
The aluminum platter weighs almost 14 lbs (6.2 kg) and sits on a sub-platter whose hardened steel axis rotates on an 8 mm ruby ball for minimal friction. The axis is mounted using high-quality sintered bronze bearing bushings.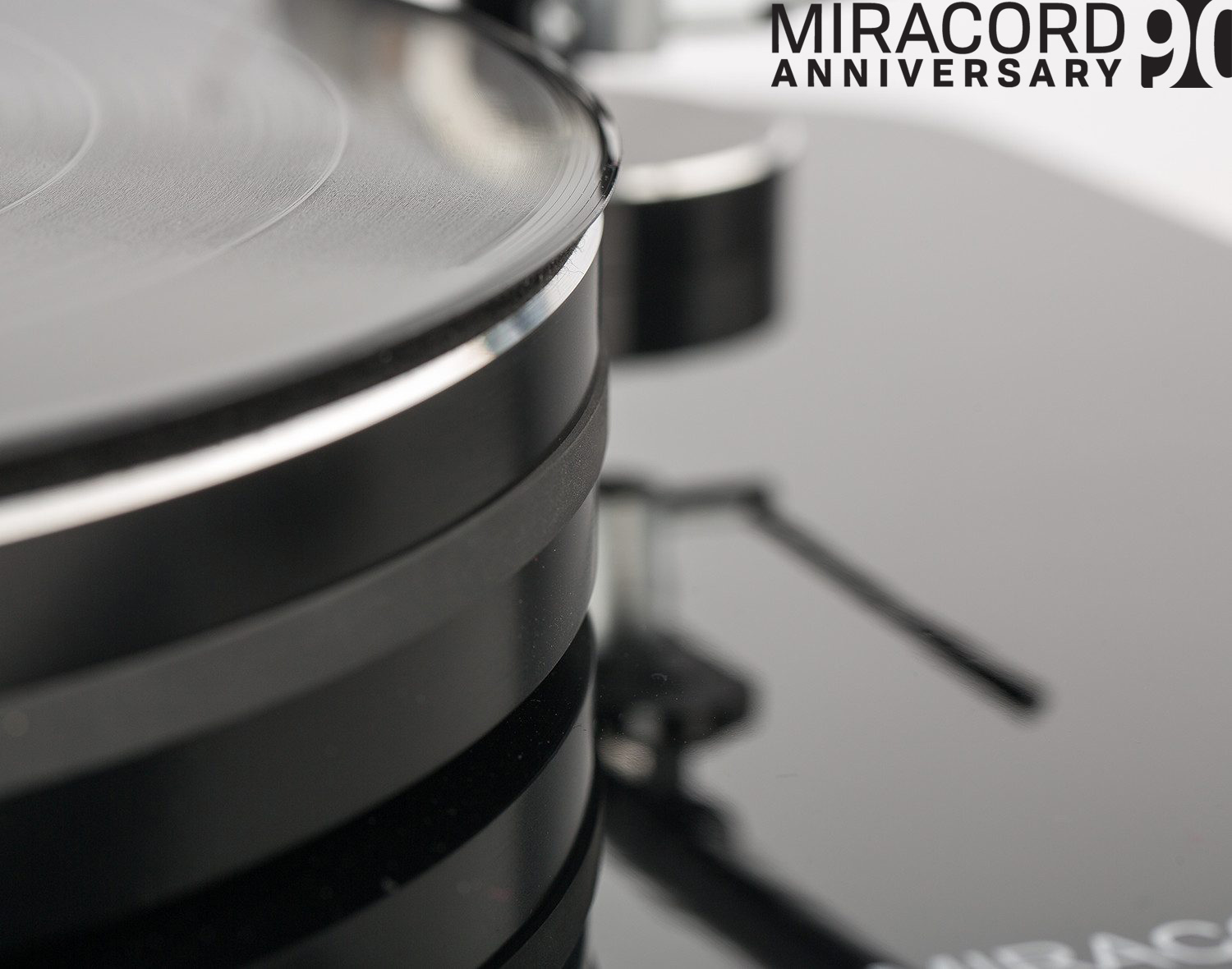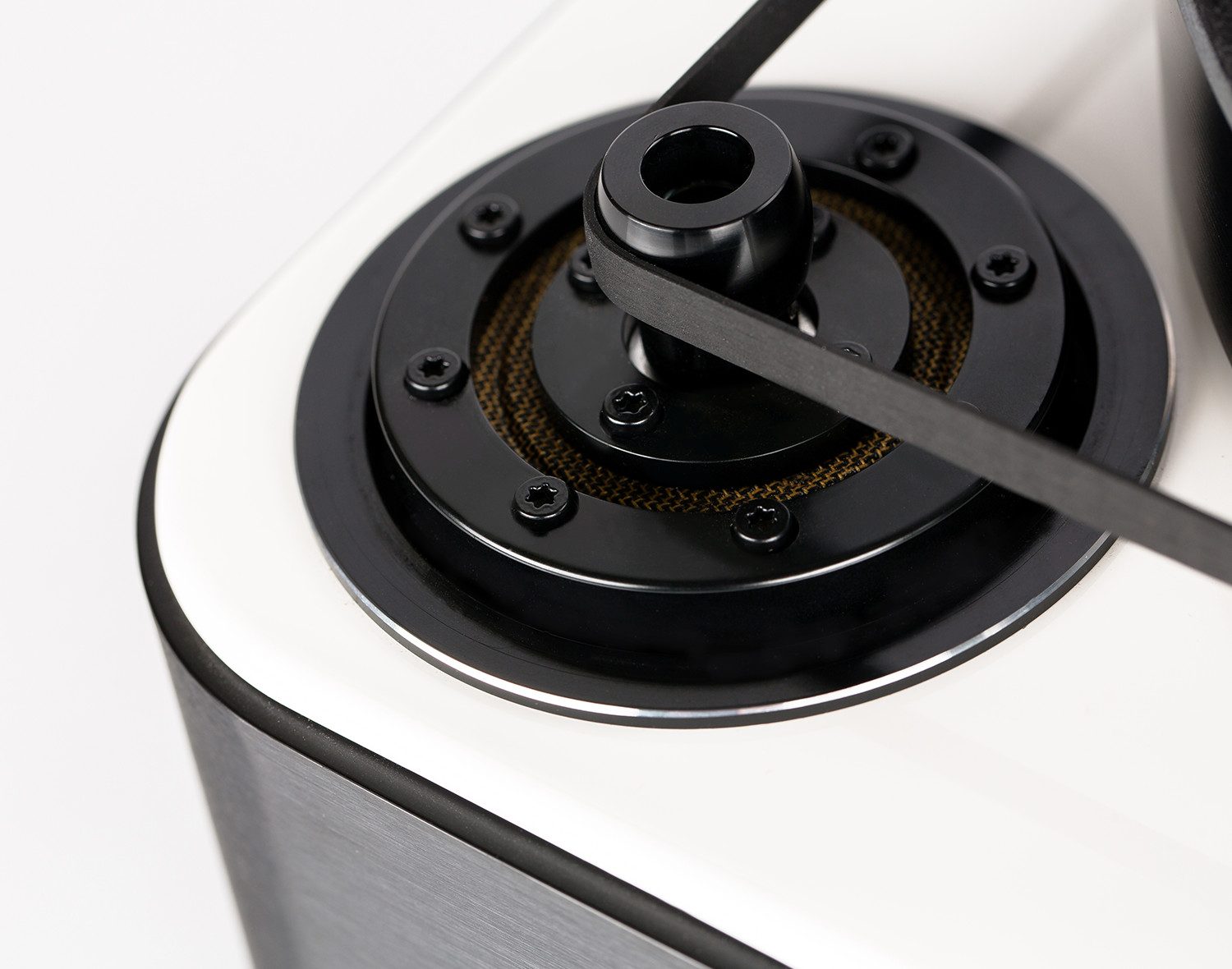 Isolated motor and sophisticated suspension
The motor is double-decoupled from the chassis and, therefore, from the tonearm. Along with the rubber damping, the suspensions employed use materials that have proven themselves in the development and manufacture of ELAC loudspeakers.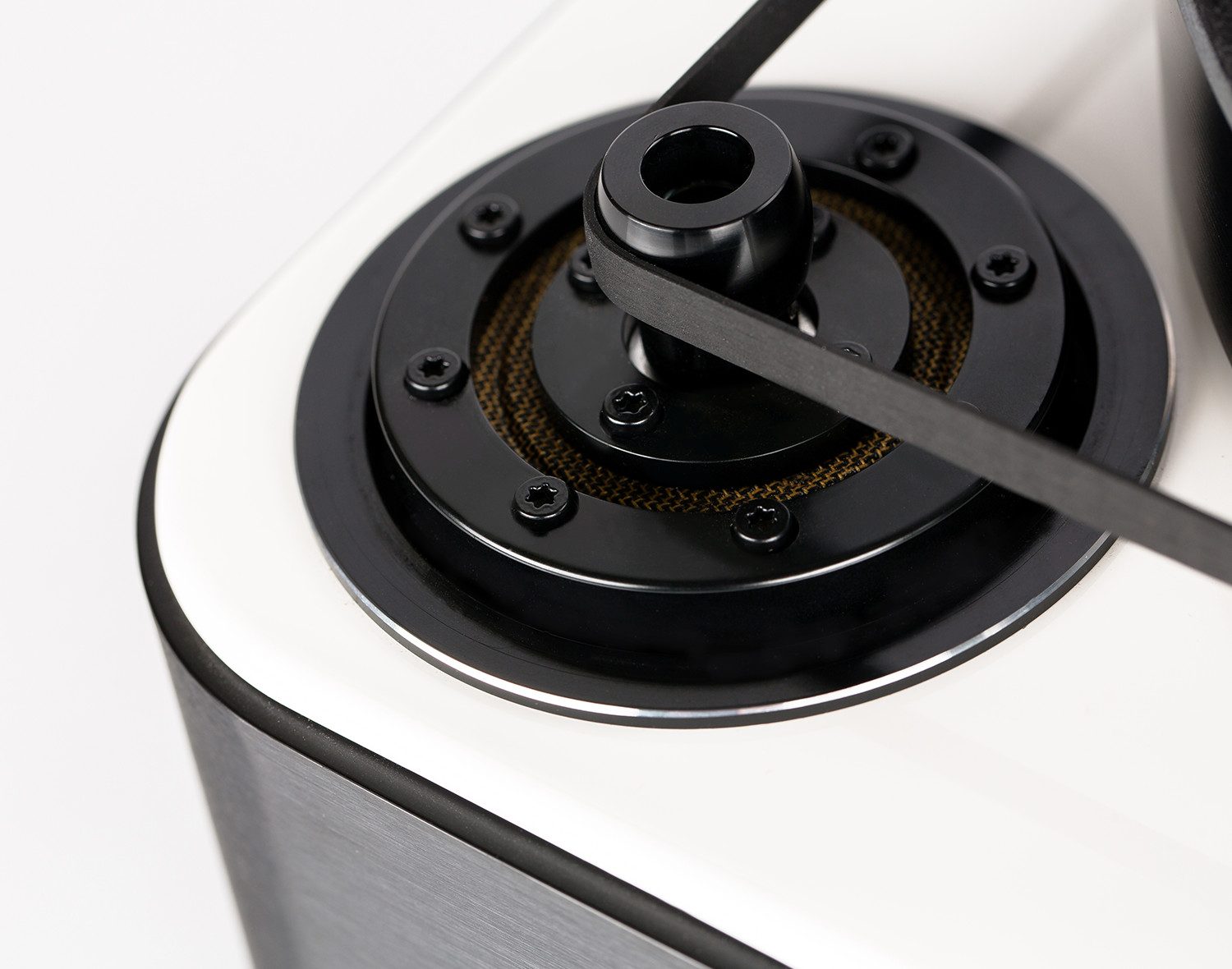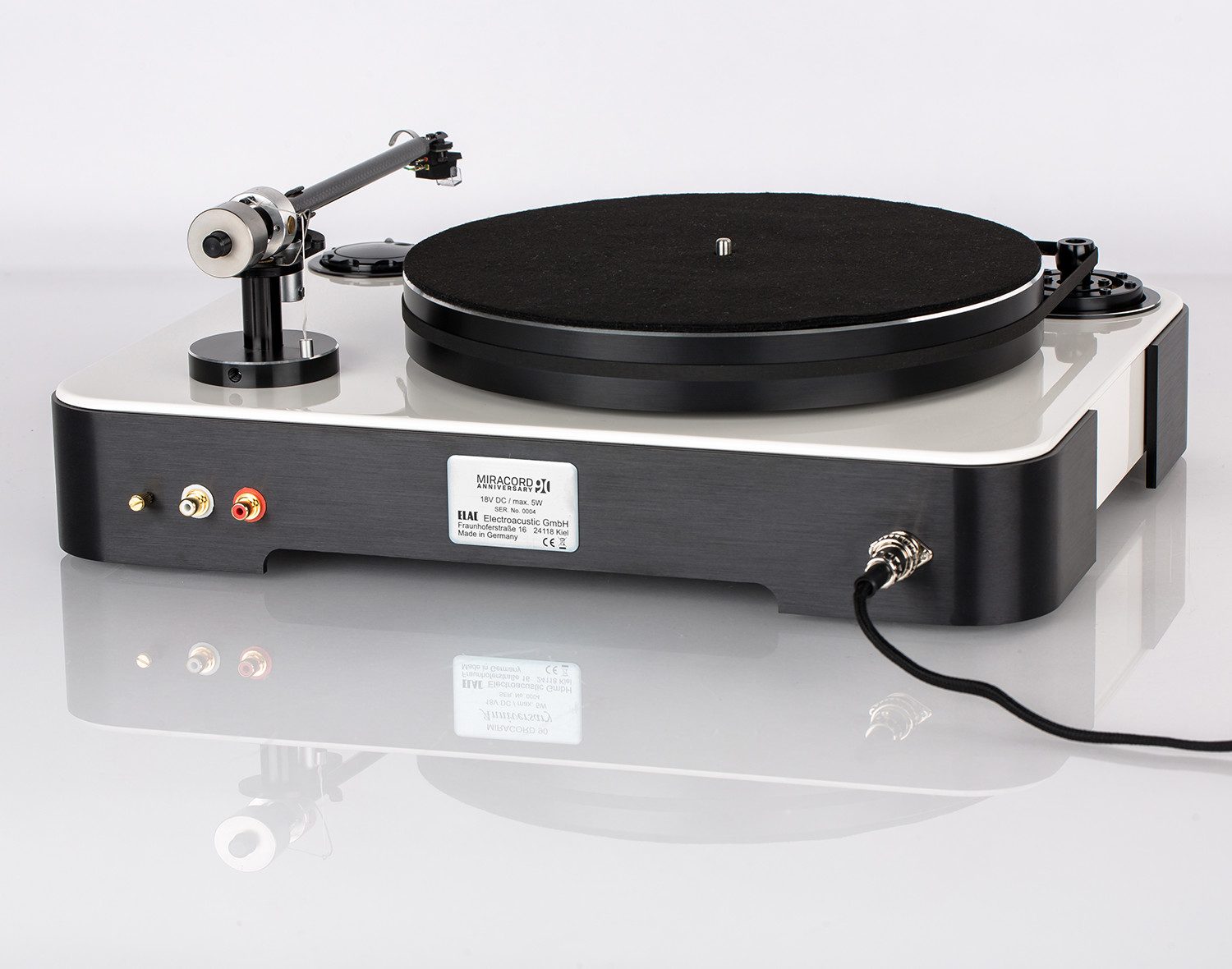 Advanced carbon-fiber tonearm
The newly developed tonearm made of carbon fiber forms a perfect symbiotic relationship with the drive mechanism.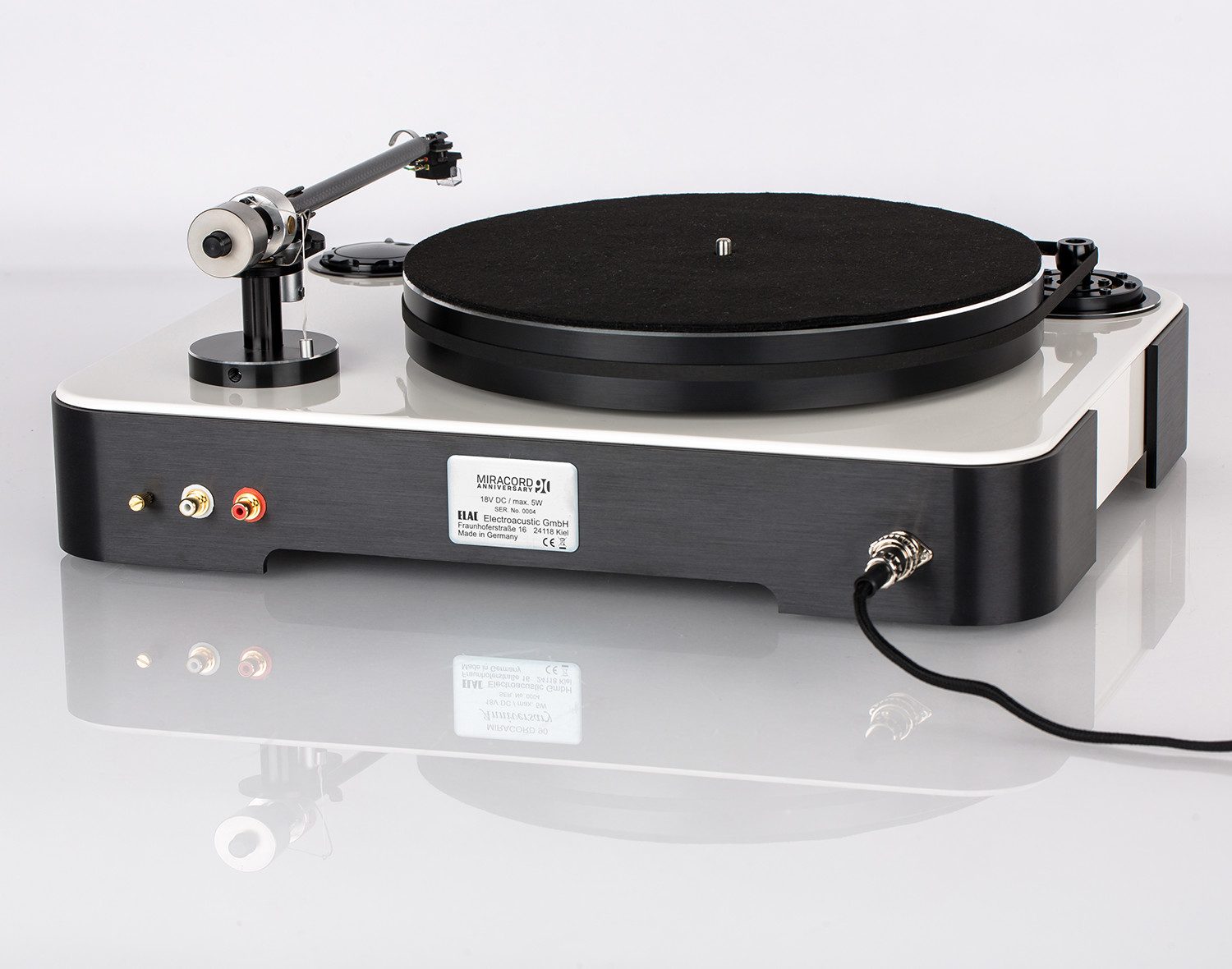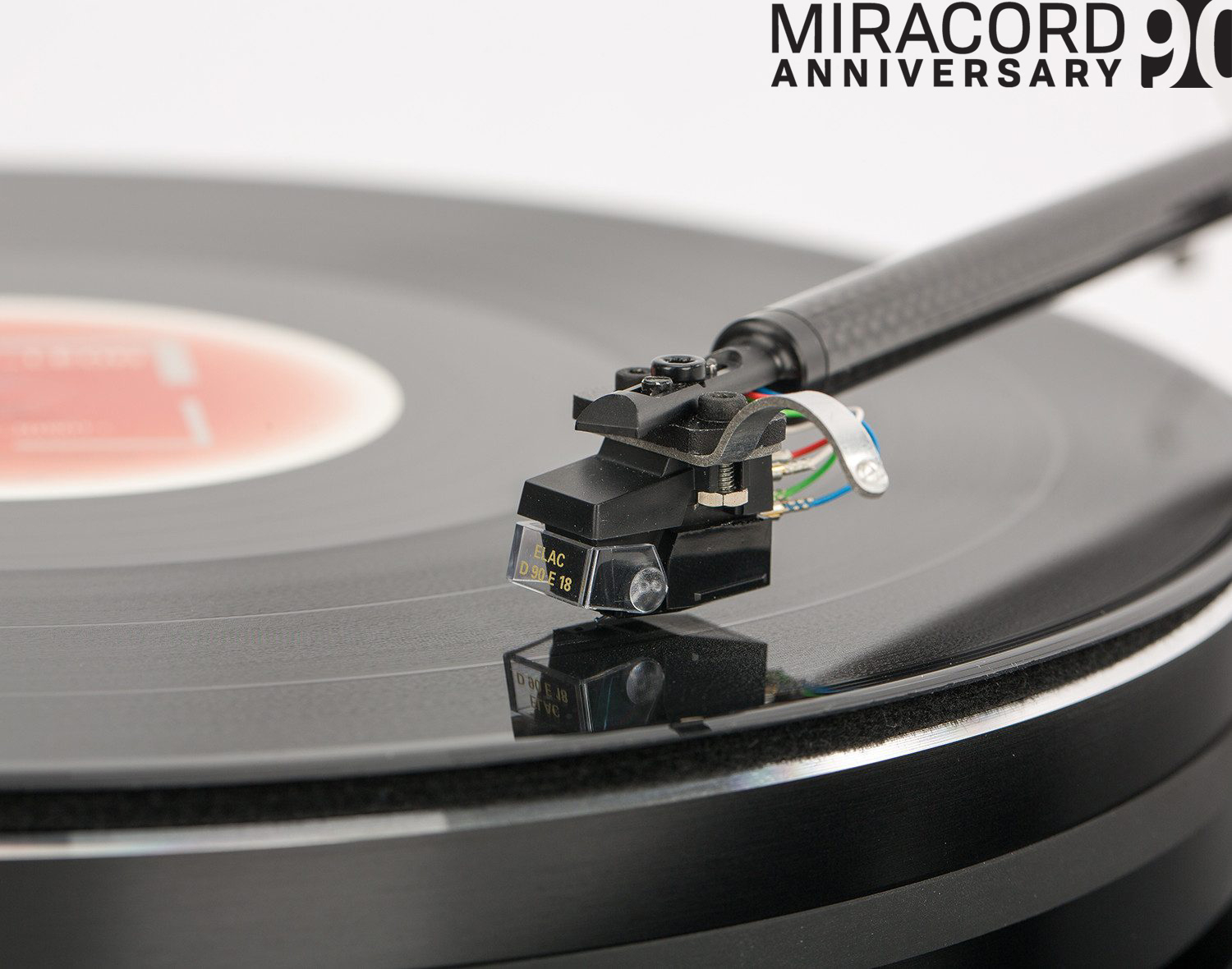 High-resolution moving magnet cartridge
The pickup with its MicroLine stylus was developed specially for ELAC in cooperation with Audio Technica and comes precision-mounted with each turntable.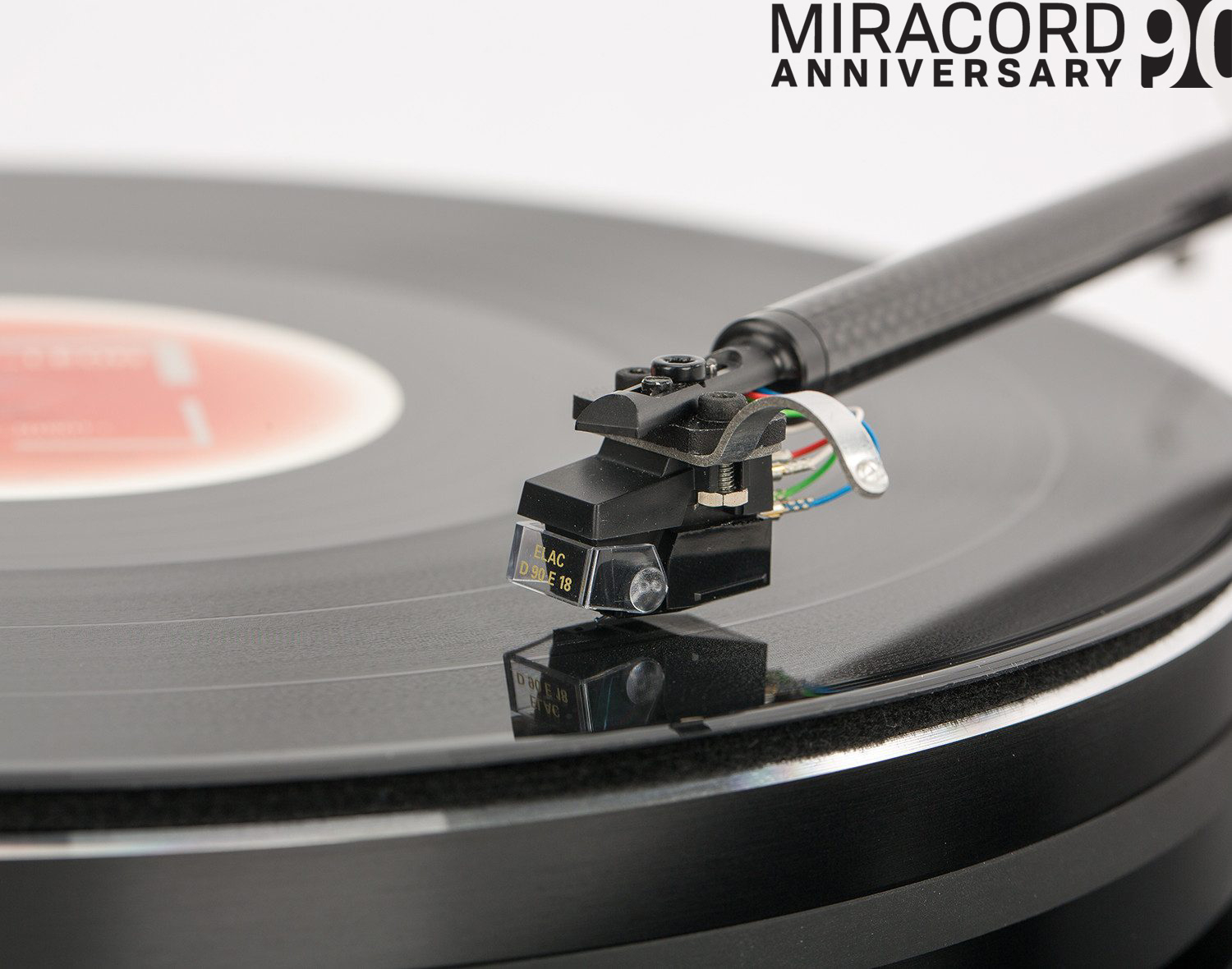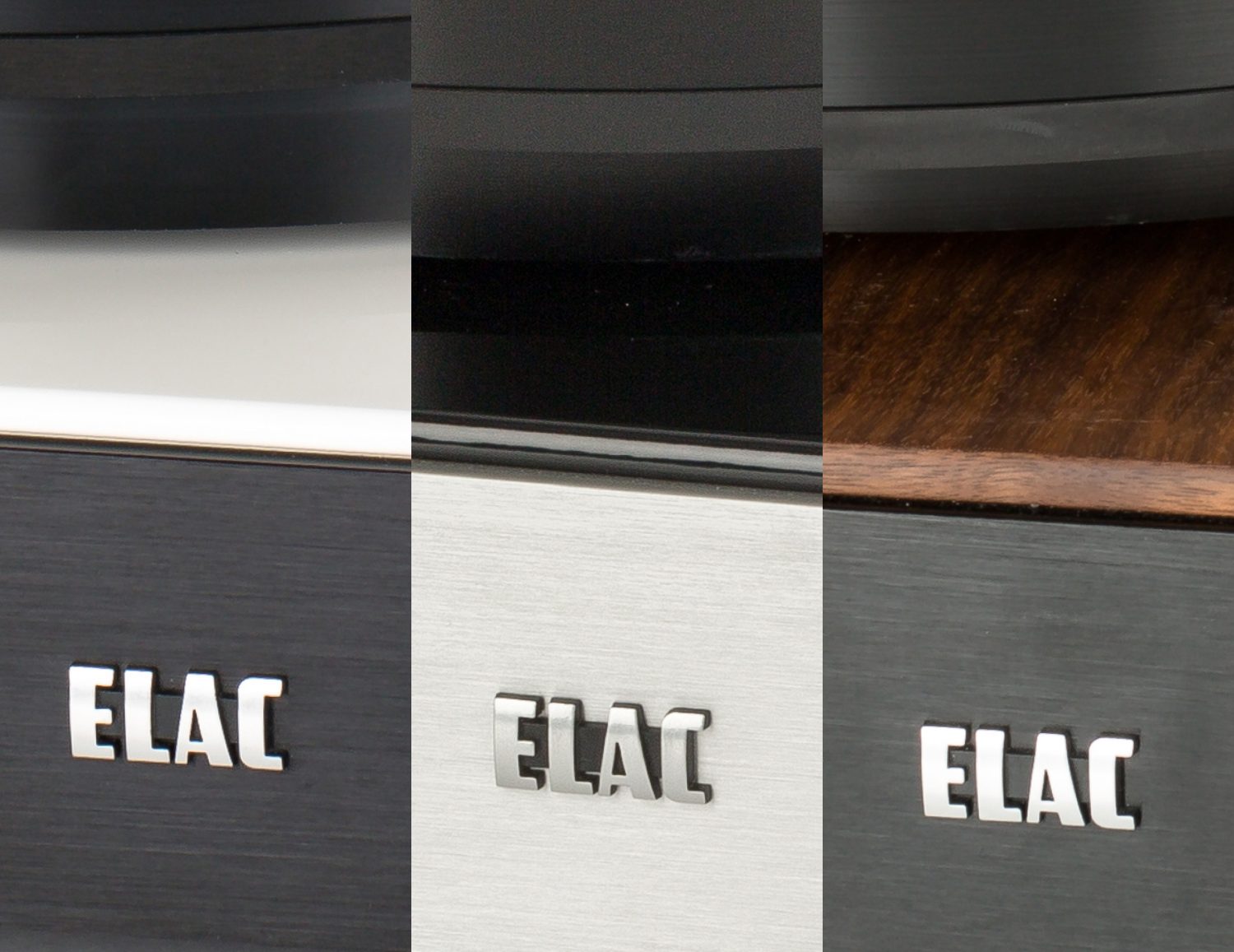 Exquisite materials and finishes
The Miracord 90 Anniversary is an aesthetic masterpiece that complements contemporary interiors and pays homage to the classic turntable design of ELAC's original Miracord. It is available in three combinations: black base with gloss white plinth, silver base with gloss black plinth, and black base with oiled walnut plinth.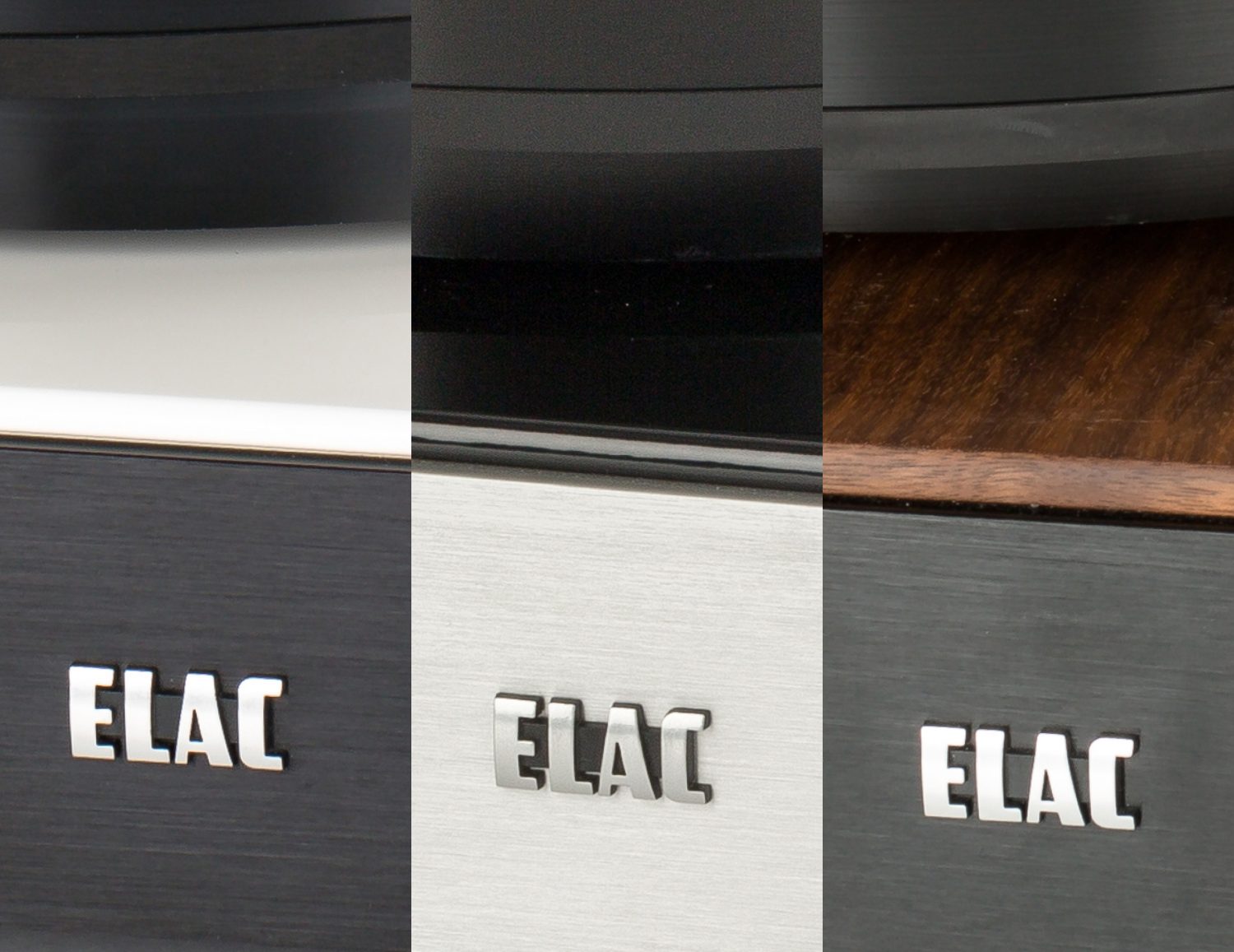 Explore the Miracord Series